An Austin Imposter? Yeah, baby, yeah!
By Chris Baker
The Washington Times
November 22, 2002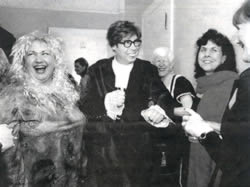 Jim Nieb impersonated Austin Powers to entertain guests of Rebecca Hierholzer (left), who celebrated her 50th birthday at a private party at the Hotel Mocaco on Nov. 10.
Jim Nieb isn't an international man of mystery, but he plays one at parties. Mr. Nieb is a professional impersonator of Austin Powers, the fictional 1960's-era British playboy portrayed by Mike Myers in a series of spy-movie spoofs. Mr. Nieb is paid to perform as Austin at private parties, trade shows and corporate retreats.

"Austin is all about love, not just sex. He just loves life," Mr. Nieb says.

The randy secret agent is just one character in Mr. Nieb's arsenal. He also performs as Jimmie the Clown and the Five Niebinskis, a series of characters that includes master juggler Sgt. Will Juggle and improvisational singer Jimmie Rock.

Mr. Nieb is also an actor. He appears frequently in television commercials and industrial training videos, and dreams of becoming a sitcom or movie star.

Until then, impersonating Austin Powers helps pay the bills.

Cast of Thousands, a McLean agency that supplies parties with celebrity impersonators, hires Mr. Nieb to play Austin. The company also employs impersonators of the Blues Brothers, Cher, Groucho Marx, Frank Sinatra, Britney Spears, television mobster Tony Soprano and the "I love Lucy" cast, to name a few.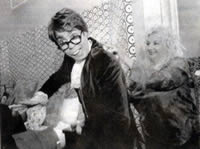 Mr. Nieb, who got a post-performance back rub from Ms. Hierholzer, works for Cast of Thousands.
Mr. Nieb is perhaps the brightest star in Cast of Thousands' cast of thousands.

On a recent Sunday evening, he performed at a birthday party for Rebecca Hierholzer, a local masseuse. The celebration was held in a deluxe suite at the swank Hotel Monaco, located in the renovated Tariff Building in downtown Washington.

Mr. Nieb struts into the hotel lobby at about 9:15 p.m. He is dressed in full Austin Powers regalia – the blue velvet suit, the puffy shirt, the thick black frame glasses, the shaggy wig, the fake bad teeth.

In the Mike Myers movies, the Austin Powers character is irresistible to women. When Mr. Nieb sashays into the suite where the birthday party is held, he is delighted to find it full of women.

This will be a room he can work easily.

"The museum called. They want their piece of art back," he says to one of the women guests.

"You're the grooviest chick in here," he tells another.

"Are you married?" he asks yet another.
"No," she responds, tightly clutching a glass of cider.
"Well, neither am I. We have so much in common," he says. He punctuates this statement, as he does most, with Powers' trademark growl.
Mr. Nieb doesn't so much impersonate Austin Powers as he does channel him. He has closely studied Mr. Myers' performances, and it shows.

The crowd at the party adores him. He flirts with the women. They flirt back.

When a partygoer unexpectedly pops an Austin Powers soundtrack into a CD player, Mr. Nieb spontaneously begins dancing, and the crowd gathers around to watch.

At one point, a partygoer's cell phone rings. Mr. Nieb grabs it and answers. Apparently, the person on the other end is so surprised to hear Austin Power' voice that they are speechless.
" This is Austin Powers, baby. Talk to me, or are you a mime?" Mr. Nieb asks.

Throughout the evening he refuses to break character.

"How do you keep your teeth in?" one partygoer asks him.
"The same way you do, baby. It's called evolution, yeah," he responds.

Another partygoer asks Mr. Nieb who he is supposed to be.
What are you, Amish? I'm Austin Powers, baby. Do you not own the videotapes? Are you a Mennonite?"

Later, Mr. Nieb chats up a young girl who has accompanied her mother to the party. The woman and the girl wear matching black velvet pantsuits. The mother's name tag reads "Me." Her daughter's reads "Mini Me," an apparent reference to the diminutive villain in the Austin Powers movies.

Mr. Nieb asks the little girl her age. She clutches her mother's pant let, and softly tells him she is 7.

"Really? I was seven when I was your age," he responds. The girl smiles.

Interacting with children is one of Mr. Nieb's specialties. He often performs as a character named Dr. Jimmie though the Big Apple Circus' Clown Care Unit, which entertains sick children in hospitals.

"I value that work the most, because that's where I make a palpable difference. I feel like when I'm finished my act, the room has altered," he says.

Mr. Nieb began his career after graduating high school. He started in standup comedy before drifting into acting.

A performer's life isn't always glamorous. Mr. Nieb recalls a gig a few years ago when he dressed up as a jellyfish to entertain some snooty society types at the National Aquarium in Baltimore.

"For three hours, I was a jellyfish. The people there looked at me like, 'You're just one step above this salad I'm eating.'" he said.

He hopes those days are behind him now. Over the years Mr. Nieb has carved a niche for himself as one of the most popular performers in the Washington area. He regularly appears at the Maryland Renaissance Festival and in local stage productions.

Mr. Nieb, an Anne Arundel County resident, expect to one day move to Los Angeles to pursue film and television work.

He said he has been able to support himself as an actor because he works virtually every day of the week. It leaves him little time for a social life, he says.

Just how much can someone get paid to impersonate Austin Powers?" Could it be as much as – one million dollars?

Not quite. Depending on which agency hires him, Mr. Nieb says he can earn between $200 and $1000 doing an Austin gig.

It is about 10:30 p.m. when Mr. Nieb's gig at the birthday party is up. He retreats to an adjoining suite, where he will wind down before heading home.

Ms. Hierholzer knocks on the door and thanks him for visiting her party. She asks if he is tired.

"Are you kidding me?" he responds finally breaking character.
"This was a blast. I have the best job in the world."