Hear Ye! Hear Ye!
By Dan Reany
The Winchester Star
August 10, 2002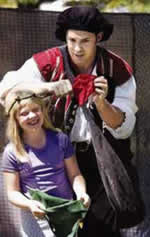 Sarah Malone, 7, has a laugh while assisting "Chance Darewithal" Jim Nieb with a magic trick Friday afternoon as part of the Renaissance Fair in Jim Barnett Park.
Photo by Scott Mason

Lords and ladies of the royal court of Winchester Parks and Recreation gathered in the shire known as Jim Barnett Park for a day of fish catapulting, juggling, acting, and crafts.

Friday was the glorious culmination of Renaissance Week for the dozens of children in Summer Fun Day Camp, run by the Winchester Parks and Recreation Department.

The Maryland Renaissance Festival loaned performer Chance Darewithal (otherwise known as JIM NIEB) to the children of Winchester for the day.

After Darewithal's wild performance that included magic tricks and plenty of laughter, children broke into groups and walked throughout the park to take part in activities set up at various stations.
With garlands in the girls' hair and green felt Robin Hood hats adorning the boys' heads, young archers drew their bows and bravely took turns at trying to slay a dragon target using nothing more than suction cup arrows.

At the nearby Game of Graces, they used two sticks to launch decorated rings back and forth.

The men of Parks and Recreation built a small, child-friendly, wooden catapult that flung fish at a makeshift castle wall. "I wanted to find a rubber frog for the catapult," Lady Leslie Bowery of Winchester Parks and Recreation said. "But all the catalog had was a rubber chicken, a rubber fish, and a rubber something else. I went with the fish."

Throughout the day Friday, Lady Leslie sported an ankle-length emerald green dress, which she made herself. Besides spray-painting the cardboard boxes gray to make the castle wall for the catapult, Lady Leslie also created costumes for the children's play. She even wrote the script for the play based on Audrey Wood's "King Bidgood's in the Bathtub."

No one can get the king out of his bath. One by one they try, only to wind up in the tub themselves until the whole cast has joined the king in his bath. The court page finally pulls the plug, literally, on the scene to get the king out of the tub.

During the day, the young lords and lasses took a brief break for juice and twisted bread (a favorite during the Renaissance) at the pretzel station.

In the end, the script-writing, costume-making, castle-building, game-designing Lady Leslie said all of her work was well worth it. She added she'd like to add a falconry demonstration and perhaps some Renaissance dances to next year's miniature fair. "This is the best job in the world," said Lady Leslie, surveying the scene from the pretzel stand."